Polymeric Powder Steel Pipes (Sections) Coating
(УКР) Полімерне (порошкове) фарбування ― метод отримання полімерних покриттів з високими захисними і декоративними властивостями. Технологія полімерного (порошкового) фарбування була розроблена в 50х роках минулого століття. Полімерне (порошкове) фарбування є типом твердого покриття, початковим компонентом якого є сухий порошок, що нагадує по стану звичайну пудру.
Уточнить наличие
Polymeric (powder) coating of metal frames from circular, square sections, cisterns and other metal products – a modern technology, which makes coated products to posses unique operating characteristics.
Steel pipe or other section with polymeric powder coating is rather polular constructional material, which is applied almost in all spheres.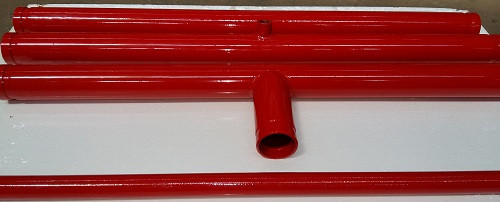 Polymeric (powder) coating is aplied for different metal frames in acoordance with colour grade RAL. It is possible to coat steel frames and other units with different shapes.  Maximum units sizes 1,5mt1,5mt12mt.
Возможно нанесение грунтовых, антикоррозионных, текстурных и лаковых покрытий по шкале RAL, а также нанесение биколорных покрытий  (два цвета).
Полимерная (порошковая) покраска ― метод получения полимерных покрытий с высокими защитными и декоративными свойствами. Технология  полимерной (порошковой) покраски была разработана в 50х годах прошлого столетия. Полимерная (порошковая) покраска является типом твердого покрытия, исходным компонентом которого является сухой порошок, напоминающий по состоянию обычную пудру.
Основное различие между технологией жидкой окраски и технологией полимерной (порошковой) покраски заключается в том, что порошковая краска не требует, в своем составе, растворителя и вяжущего заполнителя, и порошковая краска находится в твердом агрегатном состоянии.
Все порошковые краски могут быть разделены на две большие группы: термопластичные и термореактивные.