Description
Trough etching  of pipes processed at 20 - 25 % solution of muriatic, sulphuric, azotic acids.
Such processing is applied for removal of scales and corrosion. Trough etching is widely used at installation of lube systems.
The pipes containing low alloy steel are tough processed by means of trough etching because of scales.
Circulation trough etching is applied in horizontal position at 14 - 15 % sulphuric acids with addition agent by means of pumping of solution across pipes.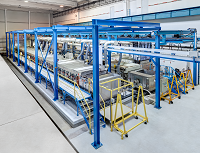 After trough etching, the pipes are moved to the second basin for rinsing. The water after rinsing is utilized into drainage system. Rinsed pipes are moved to the third basin with inhibitor for complete neutralization of acids.
For trough etching pipe fittings are placed to special baskets with acid solution.
After trough etching the pipes are rinsed  15 - 20 mins in hot water ( 70 - 80 С), and then in cold water.